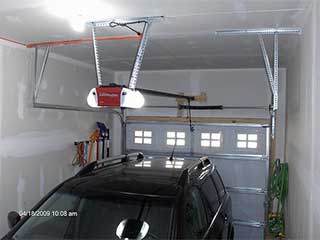 Not all garage doors are created equally. If it's time for you to replace your existing model or install a new one, you'll want to make a smart investment. Before you rush into making an uninformed decision, take the tame to familiarize yourself with the benefits and features you need.
Remote Garage Door Openers
The height of modern convenience, these handy remote controls allow you to quickly and simply open your garage door without ever exiting your vehicle. Some systems have keychain remotes you can carry in your pockets. Other types can sync with your vehicle to allow you to open or close the door from your vehicle's digital control panel.
Wi-Fi and Automation Compatible Door Openers
The only thing better than being able to open your garage door from inside your vehicle is being able to open it from inside your home or anywhere your smartphone or tablet can get a signal. Many kinds of modern wi-fi enabled doors can work with home automation systems and apps.
Manual Release
for
Power Failures
No matter how modern and sophisticated your opener may be, when you lose power, it will stop working. Some units have backup battery power, but even they will only last for so long. Having a manual release option ensures that you'll be able to physically move the rollers and open or close your door without needing electricity.
Garage Door Track Extensions
For those with eight-foot high doors, the average track won't suffice. You will need rail extensions to ensure that factory-standard systems will work in your garage.
Motion-Sensing Security Lights
If something moves in your garage, the motion sensors on these lights will automatically turn them on. These lights, which are built into the opener, can trigger your security cameras, if you have such devices installed. They can also visually alert you to potential movement in your garage.
Soft Start and Stop Openers
If your garage adjoins your home or is actually below your living space, getting in and out could wake up the whole family. A soft start and stop opener minimizes noise and can also reduce the component's overall wear and tear.
Get Professional Installation Help
If you're ready to get professional help for your electric garage door installation, contact Garage Door Repair Buffalo today for more information!